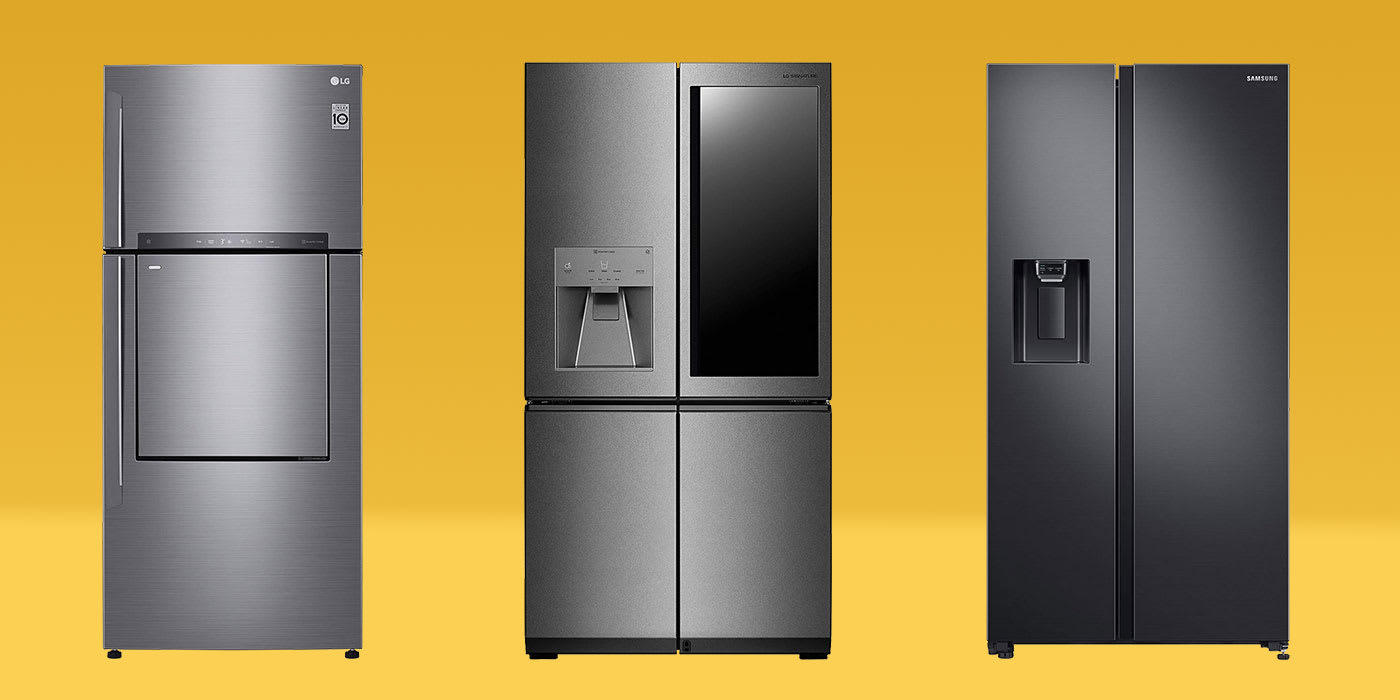 Refrigerators qualify as among the most essential appliances for the home and kitchen. For almost two centuries now, refrigeration has been one of the most critical techniques to improve our overall quality of living.
Most households nowadays ensure the presence of a refrigerator, which, along with its other obvious advantages, helps preserve seasonal produce in the non-seasonal months as well. Interestingly, refrigerators are also often at the very top of appliance shopping lists when setting up a new home.
For some, the requirement is to find a reliable, simple refrigerator that has no fuss and will get the job done. For those looking to upgrade, the industry of refrigerators today offers a wide range of choices – bottom loading freezers, side-opening doors, refrigerators fit with dispensers, and so on.
Most refrigerators also come with current inverter technology, that keeps the core electrical circuit of your refrigerator protected from any accidental power surges in your city.
Given the wide range of choices that refrigerators offer to buyers, we look at a selection of refrigerators across a wide variety of categories – some of which focus on solving the core purpose, while others add a touch of lifestyle indulgence to one of the most essential appliances of all time.
Which refrigerator brand is the most reliable?
When it comes to shopping for refrigerators, one of the key factors that buyers look for is the warranty coverage on the product.
Today, some of the most notable refrigerator brands offer warranty of up to 10 years on the compressor – a key component of the refrigerator, while many others offer such extensive warranties on the entire product itself.
Taking this, as well as the cooling power, longevity and the overall set of features on offer, the two most popular brands for refrigerators in the world are LG and Samsung. Both these companies are large, global electronics brands that produce whole groups of home appliances, which also makes it really easy for you to stick to just one brand should you find their product suited to your needs.
1
Hoover Refrigerator with Top Mount Freezer, HTR330L-S, 230L
Key Features At A Glance
---
Frost-free technology, Multiflow technology to ensure uniform airflow inside the fridge, T Climate technology to ensure food stays fresh even in hottest climate.
What is particularly impressive to note about this refrigerator is the fuss-free design and the availability of all key refrigerator features here, despite it being priced lesser than all others on this list.
At gross capacity of 230 litres, the Hoover HTR330L-S is frost-free, so you never have to worry about defrosting the freezer. Alongside a fresh box to store vegetables, the refrigerator section also has a narrow top shelf to ensure that you can store smaller items here, hence leaving the larger shelves empty to store the bigger and bulkier items.
The HTR330L-S also comes with Hoovers own Multiflow technology, which offers consistent and uniform airflow across all chambers of the refrigerator.
2
Samsung Refrigerator with Top Mount Freezer, RT50K5030S8, 500L
Key Features At A Glance
---
Twin Cooling Plus technology to keep food and ingredients fresh for longer and stops odor from spreading between freezer and fridge, Power freeze (to speed up the freezing process), Freezer convert, Power cool (to quickly chill food), Long-lasting and Energy-saving digital inverter compressor, Anti-bacterial protector.
The Samsung RT50K comes with two completely separate cooling chambers with their individual cooling intensity controls, that keeps the food fresh and stops odor from escaping between the compartments.
The integrated digital inverter ensure that your refrigerator remains protected from power surges while the anti-bacterial protector eliminates bacteria and keeps the fridge hygienic.
It does not cost exorbitantly much, and with 500-litre gross capacity, the Samsung RT50K suits big families looking for a value for money refrigerator.
In the main section, you get as many as five storage trays, apart from the fresh vegetable and fruit box at the bottom.
The Samsung RT50K is one of UAE's most reliable refrigerators when it comes to not just offering all the essentials, but striking that fine balance between being a lifestyle product and an essential one.
3
Samsung Refrigerator with Top Mount Freezer, RT65K6237DX, 650L
Key Features At A Glance
---
Twin Cooling Plus technology to keep food and ingredients fresh for longer and stops odor from spreading between freezer and fridge, Freezer convert, Power freeze, Power cool, Long-lasting and Energy-saving digital inverter compressor, Anti-bacterial protector, Features panel to quickly control temperature settings and other functions.
A near ideal example of why Samsung is one of the most reputed refrigerator makers in the world – the Samsung RT65K essentially takes the exact same formula of the highly-rated Samsung RT50K, and packs it into a larger, 650-litre package for larger families that need the extra cooling space.
It has the same benefits too – ice twister trays, anti-bacterial protector, digital inverter, twin cooling zones to keep food fresh and odor from escaping between the freezer and fridge and a robust, reliable build. At the touch of a button, you can also quickly convert the freezer into a fridge, if you so require.
The RT65K, is also equipped with a features panel, that lets you quickly activate modes such as power freeze (to speed up the freezing process),  freezer convert, power cool (to quickly chill food) and so on.
Presented in the larger, 650-litre volume, the Samsung RT65K is one of the most affordable big refrigerators to buy in the market today.
4
Hitachi Refrigerator with Bottom Mount Freezer, RBG410PUK, 410L
Key Features At A Glance
---
Bottom freezer, Energy-saving Inverter with Eco Thermo Sensor, Deep and large freezer case with bigger sized compartments, Aero-care vegetable compartment with a high concentration of Carbon-dioxide to keep items fresher for longer, Adjustable door pockets.
When compared to a freezer, the refrigerator is the most accessed compartment and in a typical double door refrigerator set up with the freezer on top, to access the vegetable tray and other produce from the bottom shelves requires you to bend often. That's not the case in a bottom mount freezer since the fridge is on the top and can be easily accessed.
If this seems to be apt for you, Hitachi's RBG410 is one of the best that you can get for the money. The advantage is a more neatly arranged space – you get a three stack freezer at the bottom, and four racks at the top along with a vegetable box.
The neat arrangement of the refrigerator also makes separate space for both large and small bottles, a dedicated egg tray and dedicated racks to store small containers too. The arrangement is highly ergonomic and can make life exponentially easier for customers.
5
LG Refrigerator with Top Mount Freezer, Door in Door, GN-D732HLHU, 549L
Key Features At A Glance
---
Door-in-door, Linear cooling, Door cooling and Multi airflow for consistent and uniform cooling, Hygiene Fresh+ air filter, Fresh 0°C compartment to save time thawing food, Energy-saving Inverter Linear compressor, LED touch panel, Wi-Fi enabled, Moving ice maker, Can be controlled using the LG Smart ThinQ App.
Moving beyond the essential category into more premium ones, and LG's D732HL is one of the most unique refrigerators that you can buy.
With a capacity of 549 litres, this LG refrigerator offers enough space for large families to store all their kitchen essentials. One of the key advantages here is the vast top-mounted freezer space, which lets you store plenty of poultry and dairy items without facing space constraint.
The big party piece, however, is the door in door design in the main compartment, which allows you to quickly access the egg tray, your favorite beverages and snacks, by opening a small window-like door with the push of a button. This avoids the need to constantly having to open the main refrigerator door.
This LG refrigerator also features an elegant LED touch panel that lets you easily operate essential functions of the fridge such as temperature, express freeze, Wi-Fi, lock and so on. The fridge can also be connected to your Wi-Fi home network and operated via the LG Smart ThinQ™ app.
6
Midea Side By Side Refrigerator, HC-689WEN, 689L
Key Features At A Glance
---
Side-by-side door, Multi airflow for consistent and uniform cooling, LED touch panel, Total no frost technology, spill-proof shelves.
If you want a side by side door refrigerator experience without spending too much money, Midea's HC-689WEN is a great choice.
This 689-litre refrigerator arranges the vast amount of space inside into a neatly ergonomic setting so you get ample storage area for storing your food items. You also get a lot more space to store bottles, containers and other tiny products since both the door sides act as storage areas.
It also features a total no frost technology that preserves the freshness of foods as well as Multi-air flow that ensures the uniform circulation of cold air throughout the compartment.
The HC-689WEN has an external touch panel that lets you adjust the cooling power inside, which you can also set to quick freezing if you wish to freeze ice cubes fast if you're hosting a party.
7
Samsung Side By Side Refrigerator With Dispenser, RS64R5331B4, 617L
Key Features At A Glance
---
Designed using Space Max technology to ensure maximum storage space without affecting external dimension or energy efficiency, All around cooling system for uniform cooling throughout the compartment, Metal cooling rear duct maintains optimal coolness so food stays fresh even if the doors are closed and opened frequently, Power freeze, Power cool, Long-lasting and Energy-saving digital inverter compressor, No-plumbing water dispenser, Auto Icemaker compartment, Deodorizing filter.
Having a dispenser on your refrigerator door is a luxury that you would not expect the convenience of until you start using it.
Inside this Samsung side-by-side door refrigerator, the arrangement is appropriate and remarkably spacious. Having the refrigerator and freezer side-by-side gives you ample storage space for the freezer as well as the refrigerator. It features an all-around cooling system that ensures the food remains fresh longer.
The fridge is also equipped with large fruits and vegetable storage boxes as well as a large automatic ice maker. The power cool and power freeze options let you quickly freeze or chill food and beverages, while the deodorizing filter eliminates odor.
The presence of a dispenser chamber on the outer door allows you to get quick water, as well as both cubed and crushed ice without needing to open the refrigerator at all.
8
Hitachi French Door with Bottom Freezer, R-WB550, 550L
Key Features At A Glance
---
Energy-saving Inverter with Dual-fan cooling to ensure quick circulation of cold air throughout the compartment, Selectable mode compartment with levers that let you set the temperature in each compartment by choosing either vegetable or dairy/meat mode, Tempered glass shelves that are spill-proof, scratch-resistant, heat-resistant and so on, Jumbo door pockets, Movable twist ice tray.
If having two large doors as your refrigerator layout is not for you, then you can also opt for the classic French door refrigerator setting with a bottom freezer.
You get two side by side doors at the top for the main compartment and a draw-out double-deck drawer at the bottom for the freezer. The doors are spacious enough to store all your bottles, sauces and containers.
The inner chamber features four compartments along with a fruits & vegetable compartment and a smaller compartment for storing eggs, cheese and other items.
You also get a touch panel outside to control both the cooling chambers.
9
LG Signature InstaView Door-in-Door, X33FGN, 950L
Key Features At A Glance
---
InstaView door-in-door, Auto door open sensor, Auto open drawer, Scratch-resistant textured finish exterior, Stainless steel interior that helps ensure cold air, Stylish display control panel, FreshShield Cooling to maintain temperature and keep food fresh, Custom Chill Pantry with variable temperature settings to store different kinds of food, Hygiene Fresh+ that minimizes bacteria by up to 99.9999% and minimizes odor, water filter.
The LG Signature InstaView Door-in-Door X33FGN refrigerator is one of the ultimate award-winning refrigerators you can buy.
Not only does it reflect your lifestyle perfectly, but it is also the epitome of luxury and innovation. One of the incredible features of the LG InstaView is its quick access sleek glass door. This glass panel stays opaque and lights up when you knock on it twice. You can use this section to quickly see what's inside and access items easily only when necessary.
Another fabulous feature is the auto door open sensor, which can sense when you are near the refrigerator, and gently open the refrigerator door for you.
The LG InstaView is exceptionally spacious with a multitude of inner and door compartments in the top refrigerator and bottom-freezer for all your storage needs. It also features a pantry compartment with different temperature settings for storing a variety of meats and other fresh produce.
Other features include a textured steel finish on the outside, Wi-Fi connectivity, FreshShield cooling to protect the freshness of what's inside, a water dispenser and many more.
10
LG Side-By-Side Door Refrigerator with InstaView Door-in-Door, GR-X259CSBV, 601L
Key Features At A Glance
---
InstaView door-in-door, Ice system is mounted on the door to give you more space in the freezer, Bottle rack, Utility box, FRESHBalancer and Moist Balance Crisper maintains the fruits and vegetables at optimal condition, Hygiene Fresh+ for removing bacteria by upto 99.999% and also minimizing odor, Wi-Fi enabled, Certain functions can be controlled using the LG Smart ThinQ App, Energy-saving Inverter Linear Compressor, Control panel and so on
One of the best-equipped refrigerator in this list in terms of features and its overall abilities, the LG X259CS is a smart refrigerator. This means that you can control multiple aspects of the refrigerator, such as cooling levels, air purification and circulation levels, and also the freezer power – by quickly connecting the refrigerator to the home Wi-Fi network and to the Smart ThinQ App. You can even diagnose your fridge through the Smart ThinQ App.
The best part? This is hardly the only significant feature that the LG X259CS comes with – it is incredibly spacious, has an inside air purification system that keeps food fresh, a bottle rack, a utility box, a smart side door layout for convenient storage and access of all things, and finally, a glass window/screen placed on the door. Simply knock twice on the glass, and it lights up to show you the contents inside.
Oh, and it also gets a touch panel outside, above the water dispenser, to control temperature and dispense water or ice to you, at the touch of a button.
Are French door refrigerators reliable?
The stylish French door refrigerators are among the most popular refrigerators bought across the world, especially in the premium segment.
The conveniences of French door refrigerators are numerous. First of all, the side-by-side door arrangement of a French door refrigerator is very easy to open and operate.
Rather than a single door arrangement, having two doors open parallelly makes the refrigerator easier and more convenient to use, and since French door refrigerators are typically larger in size by their design, buying a French door refrigerator is usually a long term choice that also suits both small and large families alike.
One of the most significant conveniences of a French door refrigerator is the bottom located freezer, which can be simply drawn out to access the icebox and other sections inside.
The overall arrangement is, simply put, far more accessible than any of the vertically aligned refrigerator models. To sum up – yes, French door refrigerators are quite reliable and is the design of choice for most of the world's leading refrigerator makers.
When you buy things through our links we may earn a commission. Every product is selected independently after intense research by our editors.