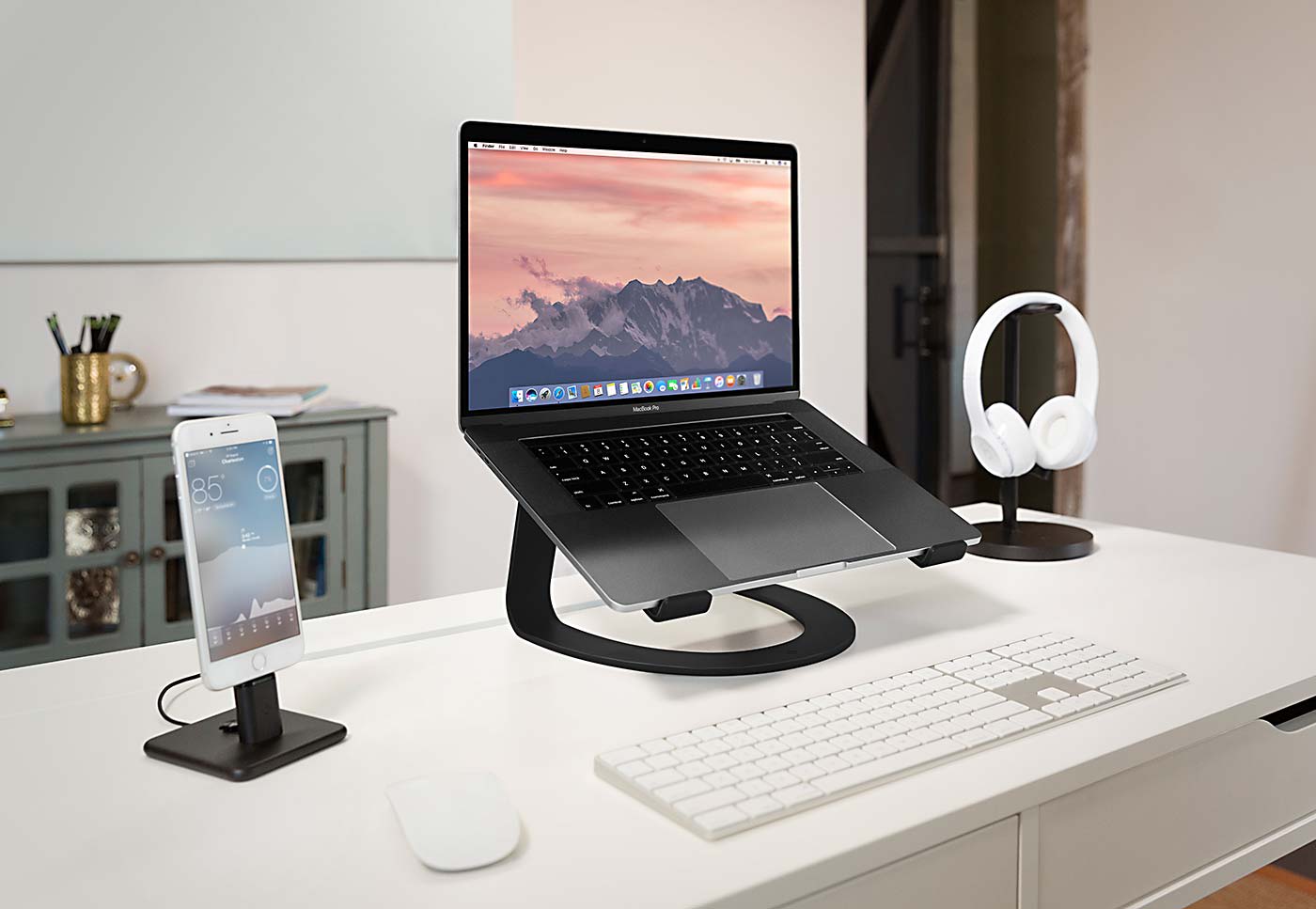 The Macbook Air and Pro are powerful laptops. However, it does have limitations that can only be addressed with the use of specific accessories.
As an example, the Macbook is equipped with USB-C ports that limit you from connecting all your other devices to your Macbook. A USB-C hub such as the Satechi Multi-port adapter will ensure you stay connected with all your devices, while only utilizing one thunderbolt/ USB-C port on your Macbook.
Another great accessory for your Macbook is the Anker PowerCore+ 26800 PD, which will keep your Macbook charged at all time even when you are outdoors.
As you work, game or create on your handy Macbook, wouldn't it be amazing if it charged faster, performed additional tasks, or loaded more data? Here is the list of our favourite Macbook accessories available in the UAE, that can let you get the most out of your Macbook.
Get instant connectivity to all your devices by attaching this neat adapter to one of the USB-C ports on your Macbook Pro. It offers options of not one, but three USB 3.0 ports, a 4K HDMI port, a Gigabit Ethernet port, and an extra USB-C port. All this, along with Micro/SD card slots, makes it a must-have gadget.
This USB hub comes in three colours: silver, gold, and space grey, that beautifully complement your Macbook Pro.
Best Budget Alternative
UGREEN USB-C Hub 6-in-1
The Curve, with its practical and sturdy design, raises your machine 6 inches higher, giving you an eye-level view recommended by most orthopaedics.
The design also allows free airflow beneath your Macbook, keeping it cool and running with no operational hiccups.
This stand is also equipped with anti-slip silicone pads to keep it locked in place.
Best Budget Alternative
Nusense laptop stand
Need space to store those extra GBs? Try this G-Technology G-drive, an excellent USB-C hard drive for the Macbook Pro that can give you an extra 2TB of space to store all your files.
This smart plug 'n play drive features high transfer speeds of up to 130MB/s with native support for the Apple Time Machine and Apple Filevault.
It's stylish and designed for the Mac user on the go.
Best Budget Alternative
WD 2TB My Passport Portable External Hard Drive
Wouldn't it have been amazing if all your devices came packed with a USB-C to lightning cable that you could easily connect to your Macbooks? Unless you already have or plan to buy an iPhone 11 pro or an iPhone 11 pro max or the iPad pro, you're stuck with the USB-C to USB-A cable. So when you wish to connect your iPhone or iPad to your Macbook Pro, one option would be to use a USB-C to USB-A adapter each time to connect the two devices. The better alternative, however, is to get yourself a USB-C to Lightning Cable.
This USB-C to Lightning cable from Anker is Mfi certified to ensure the safe and fast charging of devices. It is also double braided for toughness and durability.
This cable has undergone rigorous testing under lab conditions.
So when we recommend this accessory, we do it with zero hesitation.
Best Alternative
Apple Lightning To USBC Cable (2M)
Ever missed projecting your favourite video clip or home movie onto a TV screen or projector? Unfortunately, the Macbook Pro does not come equipped with an HDMI port.
Here's the perfect solution by UGreen. This USB-C to HDMI cable is a convenient accessory that will help you connect your Macbook Pro to an external TV, monitor or projector via HDMI. It ensures high-quality video and audio transfers each time.
Its triple-layer shielding makes it a durable and must-have utility.
Best Alternative
CHOETECH USB C to HDMI Cable
This power bank from Anker features one USB-C port to charge any USB-C device including the MacBook Pro and an additional two USB ports for charging all your other devices, making it an ideal solution for all your charging needs.
It features a 26800mAh battery with high-speed charging that can completely charge a MacBook Pro in approximately 2 hours.
Best Budget Alternative
Anker PowerCore 20100mAh
Apple has definitely improved the keyboard on the newest Macbook Pro 16 models. However, if you own an older Macbook version and are not particularly fond of its keyboard, you may want to opt for an external one.
The Logitech K780 keyboard is comfortable and quiet to use. More importantly, it can simultaneously pair with up to 3 devices, including your smartphone and tablet. The multi-device ability of this keyboard added to the precision typing mechanism makes this accessory a promising option.
Best Alternative With Arabic Letters
Apple Magic Keyboard, English-Arabic
This advanced mouse is designed for creative precision and those aiming to achieve high productivity. Along with its perfectly symmetrical and smooth design that fits the shape of your palm, the MX Master 3 can be used on any surface!
The Logitech MX mouse features 7 buttons that can be easily customized for every app. It also just as easily connects to the Macbook Pro via Bluetooth.
Best Alternative
Apple Magic Mouse 2
The SN30 Pro+ is a fantastic game controller that works with Mac OS, Windows, Android, Steam, and Raspberry Pi. The controller is equipped with a USB-C connector allowing it to be easily connected to USB-C devices.
The controller features a classic, comfortable design, and its controls can be customized, making this controller excellent for playing most games on your Macbook Pro.
Best Alternative
8BitDO N30 Pro 2 – N edition
If you want to connect all of your USB devices to your Macbook Pro, you would need a USB-C to USB 3.0 adapter. This USB adapter supports data transfer speeds of up to 5Gbps.
This Samsung T7 portable SSD is an excellent SSD drive that pairs well with your Macbook Pro. It's compact, enclosed in an aluminium body and is equipped with a USB-C port which supports USB 3.2 Gen 2 that can reach read/write speeds of up to 1050/1000 MB/s. It also provides enhanced security to your files with an option of unlocking the device using fingerprint or password.
The drive also comes packed with two cables – USB-C to USB-C and a USB-C to USB-A.
Best Alternative
SanDisk 2TB Extreme Portable External SSD
A neat and durable little accessory that ensures efficient and easy transfers between your devices, this Sandisk Drive is equipped with a high-speed USB 3.1 type C connector, for all USB-C supporting devices such as the Macbook Pro. Even other USB-C supporting tablets and smartphones can be attached to this device.
At the other end, however, is a USB Type-A connector that allows you to quickly and seamlessly transfer files between all your devices.
This Sandisk USB C Flash Drive is the only drive that you need for all your transfer and storing needs.
Best Alternative
SanDisk 128GB Ultra Dual Drive
This beautiful stand from Twelve South holds the MacBook vertically thus helping you save desk space. It also comes packed with three interchangeable inserts which can easily fit the Macbook Pro. The cable-catch feature prevents your cable from falling to the floor.
Best Alternative
Belk MacBook Laptop Stand
The Sonos One SL is a powerful speaker that can easily pair with your Macbook Pro due to its support for Apple Airplay 2. It's compact, stylish and offers an amazing sound quality. It can also be paired with other One SL to create various stereo and home theatre setups.
Best Alternative
Bose portable smart speaker
If you've ever wanted to try a hand at drawing on the Macbook pro, then you would certainly need a drawing tablet. The Wacom Intuos S is a great entry-level drawing tablet for the Macbook Pro which is easy to set up and use. It is also the winner of the IF design awards 2019. The Wacom Intuos S will provide you with all the essentials you would need to start drawing and get more creative.
Best Alternative
XP-Pen Graphic Tablet
The Satechi car charger is a convenient accessory that will help you keep your Macbook charged on the go.
Late for a meeting with minimal charge left on your Macbook? No worries! Plug your Macbook into the Satechi Car Charger, for a fully charged MacBook. This nifty charger has two ports to charge USB-C laptops, phones, tablets, or USB-A devices.
When you buy things through our links we may earn a commission. Every product is selected independently after intense research by our editors.